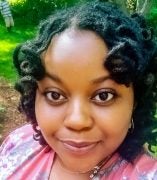 Breigha Adeyemo
Doctoral Candidate
About
Breigha is a PhD Candidate in the Department of Communication at the University of Illinois at Chicago (UIC), also pursuing a certificate in Black Studies through UIC's Black Studies Department. She holds a BA in Communication Studies from Prairie View A&M University and an MA in Performance Studies from Texas A&M University. She is a communication and STS scholar whose work is at the various intersections of technology, democracy, and capitalism and often uses a racial and social justice lens. Her dissertation examines the design practices and policies of Big Tech companies in order to explore paths to democratize technology through external and internal policy change.
Breigha's secondary research interests are in surveillance studies. Her most recent work in surveillance examines what she terms 'residual surveillance' and explores the social and political consequences of surveillance technologies that have been deployed during the covid-19 pandemic. Her overarching research goal is to democratize technology, its design and deployment, in hopes of producing more just and responsible technology, technological practices, and policies that help shape those practices in ways that make technology more inclusive. Breigha has published in Feminist Media Studies (FMS) and presented her research at various conferences, including ACM CHI.
Breigha strongly believes that we are blessed to be a blessing and thus have a responsibility to "pay it forward". That's why she is passionate about using her platform as an educator and scholar to help and inspire others.
Education
MA in Performance Studies (focus in Africana Studies), Texas A&M University, 2018
BA in Communication Studies, Prairie View A&M University, 2013