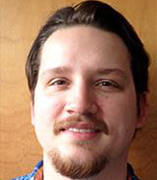 Nathanael Bassett
Doctoral Candidate
About
Nathanael Bassett is a PhD Candidate at the University of Illinois at Chicago and holds an MA in Media Studies from The New School.  His work employs phenomenology and media archaeology to study non-use, disconnection and technology refusal. His dissertation research looks at dead zones as sites of infrastructural disconnection which allow a reprive from continuous connectivity. As a fellow with the National Science Foundation's IGERT program in Electronic Security and Privacy at UIC, he studies security as technological and social power, and the efforts of users (and non-users) to control experiences with technology.
Nathanael has presented at National Communication Association (NCA), Association for Internet Researchers (AOIR), Society for the Social Studies of Science (4S) and the Cultural Studies Association (CSA) annual conferences. In 2018, he co-edited a special issue of the journal Communication+1 with Zachary McDowell on the value of media archaeology for communication researchers. He has published several book chapters and articles dealing with research ranging from a media archaeology of mechanical keyboards to horror philosophy and pop culture.
Prior to his work at UIC, Nathanael produced web video for non-profit organizations as a freelance videographer, and worked as  artist/instructor for Youth Rights Media in New Haven, Connecticut. While at The New School he won a distinguished thesis award for an ethnography on hackathons and coding for social good. Nathanael's long-standing research goals involve outlining new theory on technology non-use that accounts for the uncanniness of contemporary media and the difficulties faced by non-users in developed society.
Education
MA in Media Studies, The New School