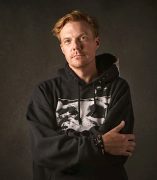 Roy Christopher, PhD
Visiting Assistant Professor
Communication
Contact
Building & Room:
1173 BSB
Address:
1007 W Harrison Street
Office Phone Voice:
Email:
Related Sites:
About
Roy Christopher is a Visiting Assistant Professor on topics including Hip-hop and Communication, Cyberpunk and Cyberculture, Environmental Communication, Interviewing, and Writing and New Media in the Department of Communication at the University of Illinois at Chicago. His main interests are in figurative language use and the evolution of technology.
Christopher was assistant editor of Paul D. Miller a.k.a. DJ Spooky's edited collection Sound Unbound: Sampling Digital Culture and Music (MIT Press, 2008). His first book is an anthology of interviews entitled Follow for Now: Interviews with Friends and Heroes (Well-Red Bear, 2007). Disinformation named it one of the most important books published in 2007, and Erik Davis called it, "a crisp and substantial remix of the major memes of the last decade or so." He is currently working on two books: One is about technological mediation and culture called The Medium Picture and the other is about Hip-hop and the future called Dead Precedents.
Education
PhD, University of Texas at Austin, Communication