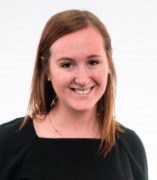 Elizabeth Fisher
Masters Student
Communication
Contact
Address:
1007 W Harrison St, Chicago, IL 60607
Email:
About
Ms. Fisher is masters' student with a concentration in media studies and health communication. She is currently a research specialist at the UIC School of Public Health where she has worked since 2015. Ms. Fisher is the Deputy Director of the UIC Center for Healthy Work and a Certified Health Education Specialist. Translating public health research to shape accessible health promotion messaging has been one of Ms. Fisher's guiding professional goals.
Elizabeth Fisher holds a Bachelor of Science in Community Health Sciences degree from Ohio University. Her interest areas include health communications, health education, community and economic development, as well as systems change.
Education
Bachelor of Science in Community Health Sciences at Ohio University