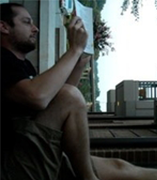 Jason Archer
Doctoral Candidate
Communication
Contact
Building & Room:
1150 BSB
Office Phone:
Email:
Related Sites:
About
Jason Archer is a PhD candidate focused on the intersections of touch, media, technology, and society. From conceptualizing touch media and media touch to analyzing the consequences of haptic technology in and on multiple contexts of communication Jason's work attempts to get a grip on an increasingly touch-oriented media environment. His touch-oriented research has been accepted for presentation at AoIR and NCA.
Jason joined the department in 2011 because of its focus on communication and technology with an emphasis on fostering collaboration between students, faculty, and other departments. He collaborates with students and faculty in Computer Science, Engineering, and Communication Disorders and Sciences to design and research the effects, perceptions, and consequences of emerging technologies in augmenting humans. His collaborative human augmentics research has been published in the proceeding of Interspeech and Acoustical Society of America.
Jason is currently a graduate instructor and has taught Fundamentals of Communication, Conflict and Communication, and Introduction to Interpersonal Communication. Jason has also held interdepartmental research assistant positions, guided by Steve Jones and Andy Rojecki, focused on the role of mobile technology to assist smoking cessation, the culture of vapors (electronic cigarette users) in Reddit communities, and media representations of race in the 2012 Presidential election.