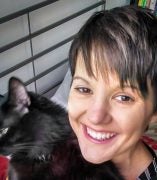 Adrienne Massanari, PhD
Associate Professor
Communication
Contact
Building & Room:
1150B BSB
Address:
1007 W Harrison Street
Office Phone:
Email:
Related Sites:
About
Adrienne Massanari (she/her) is an Associate Professor in the Department of Communication at the University of Illinois at Chicago. Her research interests include new media, gaming, digital cultures, design, platform politics, gender, and ethics. Her book, Participatory Culture, Community, and Play: Learning from Reddit (Peter Lang, 2015), considers the culture of Reddit.com. Massanari's work has appeared in New Media & Society, Feminist Media Studies, First Monday, Journal of Computer-Mediated Communication, and Journal of Information Technology & Politics. Prior to joining UIC, she was at Loyola University Chicago and served as the Director for the School of Communication's Center for Digital Ethics and Policy. She also has more than 10 years experience as a user researcher, information architect, usability specialist, and consultant in both corporate and educational settings.
PhD, University of Washington, Communication
Selected Publications
Massanari, A. L. (2018). Rethinking research ethics, power, and the risk of visibility in the era of the "alt-right" gaze. Ethic as method in the era of Big Data (A. Markham & A.Herman, Eds). Special issue of Social Media + Society. Available online:
https://journals.sagepub.com/doi/abs/10.1177/2056305118768302
Massanari, A. L. (2017). "Come for the period comics. Stay for the cultural awareness.": Reclaiming the troll identity through feminist humor on Reddit's /r/TrollXChromosomes. Feminist Media Studies. Available online:
http://www.tandfonline.com/doi/full/10.1080/14680777.2017.1414863
Massanari, A. L. (2016). Contested play: The culture and politics of Reddit bots. In R. Gehl and M. Bakardjieva's (Eds.) Socialbots and their friends: Digital media and the automation of sociality (pp. 110-127). New York: Routledge.
Massanari, A. L. (2015). #Gamergate and The Fappening: How Reddit's algorithm, community, and culture support toxic technocultures. New Media & Society. Available online: http://nms.sagepub.com/content/early/2015/10/07/1461444815608807
Massanari, A. L. (2015). Participatory culture, community, and play:  Learning from Reddit. Peter Lang.
Massanari, A. L. (2015). Never Alone (Kisima Inŋitchuŋa): Possibilities for participatory gamedesign. Well-Played, 4(3). Available online: http://press.etc.cmu.edu/content/volume-4-number-3-diversity-games
Education
PhD, University of Washington, Communication