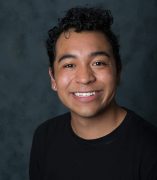 Rocky Roque
Doctoral Student
Pronouns: He/Him/His
About
Rocky Roque is a first year Ph.D. student in the department of Communication. He obtained a B.S. in communication education and minored in English at Illinois State University. He would then earn his master's degree at the same institution.
Rocky is a rhetorical and interpersonal scholar. His research primarily focuses on the rhetoric of digital social movements with further emphasis on racial, feminist, and Queer narratives. While attending UIC, he will continue work surrounding hashtag activism and argumentative strategies used by marginalized communities.
He has presented work at the National Communication Association, the Central States Communication Association, and the Illinois Communication and Theatre Association. Rocky hopes to continue researching and teaching after completing his program.
Education
M.S. Communication, Illinois State University, 2021
B.S. Communication Education & English minor, Illinois State University, 2019