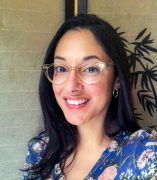 Kristina Sawyer
Doctoral Candidate
About
Kristina M. Sawyer is a PhD student and IGERT Fellow in Privacy and Electronic Security in the Department of Communication at the University of Illinois at Chicago (UIC). Her work focuses on the sociopolitical consequences of biomedia.
Born and raised in the Bronx borough of New York City, Kristina holds an MA and BS from Boston University's College of Communication in Emerging Media Studies and Film and Television Production, respectively. Her master's thesis explored mobile health (mHealth) wearables, like FitBit, as gamified, nudging technologies from the perspective of self- determination theory (SDT).
Since joining UIC, Kristina has presented research on cognitive computing and memory, geolocation and user awareness, HMC and algorithmic decision-making, and VR, politics and play (NCA, 2018). Her dissertation will explore biometric technologies and what bodies, in general, and faces, specifically, communicate.
Education
MA and BS from Boston University's College of Communication in Emerging Media Studies and Film and Television Production