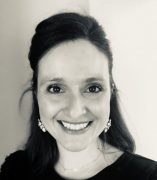 Viki Conner
Doctoral Student
Pronouns: She/Her/Hers
About
Viki is a first-year PhD student in communications at the University of Illinois-Chicago where she studies digital spaces and online communities to uncover the communicative practices and processes that enable organizational emergence, transformation, and social change.
With nearly 20 years of industry experience as a communications consultant working for the private sector and within higher education, she brings to her research substantive and theoretical interests at the intersection of organization studies, sociology of storytelling, and political communication.  Her recent research projects explore the changing meaning of the institution of public service – as both a profession and an ideology – in contemporary American society.
Before beginning her doctoral studies at UIC, Viki served as the Senior Associate Dean of Communications and Marketing at the University of Chicago Harris School of Public Policy.  She also spent more than a decade with the global public relations agency, Edelman, as a corporate and financial communications consultant in its Chicago, New York, and London offices, with extensive experience in reputation management, organizational communications, and brand-building.
A downtown Chicago native, she resides in Lincoln Park with her husband and two daughters.
Education
M.A. in social sciences (concentration: sociology), University of Chicago (2020)
B.A. in public policy and French, Duke University (2002)