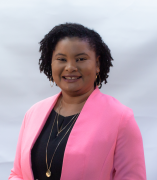 Marilyn Facey
Doctoral Student
About
Marilyn Andrea Facey MSc. BA is the Programme Director of the Bachelor of Arts in Communication Arts and Technology at the University of Technology Jamaica. She holds a Bachelor of Arts in Media and Communication and a Master of Science in Development Studies from the University of The West Indies Mona. Prior to her appointment as a Lecturer in 2017, Ms. Facey spent 15 years as an award winning
News and Current Affairs producer at media houses including (then) the RJR Communications Group and Nationwide News Network. She also worked on several youth/ development projects including TalkUpYout's 'YoutfiChat' (2017-2019) and the Jamaica Social Investment Fund (JSIf)/Main Event Entertainment's M-Academy, which trained inner-city youth in audio, video, lighting and stage production.
Her current research focus is on public policy at the intersection of new media technologies and the cultural and creative industries. She is also passionate about youth development, the future of higher education, leadership and team dynamics. Ms. Facey is an editor, content producer, event manager and avid reader. She is also a 2022 Fulbright Scholar. Her Fulbright journey will take her to the University of Illinois, Chicago to pursue a doctor of philosophy in Communication with a focus on communication, culture and technology.
At present, media and communication, culture and public policy are separate academic disciplines in Jamaica. However there are many points of intersection. Global dynamics and Jamaica's natural advantage in culture and creativity suggest a development trajectory that will benefit from the merger of the two. In this regard, any thrust towards training in communication, culture and technology will contribute to the overall advancement of Jamaica's creative economy but in a novel and targeted way.
Education
Master of Science in Development Studies, Sir Arthur Lewis Institute for Social and Economic Studies
Bachelor of Arts in Media and Communication, Caribbean School of Media and Communication, University of the West Indies, Mona