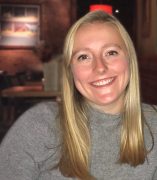 Eloise Germic
Doctoral Student
Contact
Address:
1007 W Harrison St, Chicago, IL 60607
Email:
About
Eloise is member of the 2020 doctoral student cohort. She earned her BA in English at Kalamazoo College and her MA in Communication at Wayne State University.
Eloise research focuses on critically examining health and wellness culture online, health technology, and how health is raced, classed, and gendered. Specifically, she's interested in the ways that health functions as a marker of good citizenship, and how wellness culture impacts what we perceive to be the image of health.
Following her completion of the program, Eloise hopes to continue researching, writing, and teaching at the university level.
Education
BA in English at Kalamazoo College - 2017
MA in Communication at Wayne State University - 2020