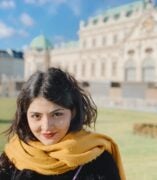 Niloufar Hajirahimikalhroudi
Doctoral Student
Communication
About
Niloufar Hajirahimikalhroudi is a Ph.D. student of Communication and Media Studies at the University of Illinois at Chicago. She earned her Master of Science in Communication and Media Studies at Lund University, Sweden, and a Bachelor of Arts in Journalism at Istanbul University, Turkey. During her studies, Nil also worked as a journalist and a communication officer for international publications and non-profit organizations.
Her main research interest revolves around everyday life, digital communities, and their online as well as offline practices. Nil wrote her master's thesis on how Turkish immigrants negotiate power dynamics in Germany through communicative practices. The paper was awarded the publication in the Excellent MSc Dissertations 2021 book (Lund University, 2022, ed. Michael Bossetta). Her latest publication, presented at the 4S community annual conference in September 2021, investigates how Muslim communities celebrated Ramadan digitally during the pandemic. At the same time, she also participates in other research projects revolving around topics such as streaming platforms, Audience studies, and Geomedia.
Outside of academia, Nil is a cinephile. In her free time, she enjoys watching films, playing games with friends, doing analog photography, and trying new restaurants.
Education
MA in Communication and Media Studies at Lund University, Sweden, 2021
BA in Journalism at Istanbul university, Turkey, 2019