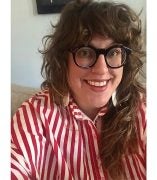 Krysten Stein
Doctoral Candidate
About
Krysten Stein (she/her/hers) is a first-generation, interdisciplinary Ph.D. student studying Communication and Media Studies with concentrations in Gender and Women's Studies and Black Studies at the University of Illinois at Chicago. She earned her Bachelor of Arts in Communication with a double minor in Psychology and Women's, Gender, and Sexuality Studies, a Master of Arts in Communication, and a graduate certificate in Film and Media Studies from the University of Cincinnati.
Broadly, her research investigates how television, digital media, and popular culture are intertwined with systems of power and systematically excluded populations. Rooted in critical/cultural studies, utilizing an intersectional feminist lens, her writing and research focuses on cultural production, representation, media industries, and political economy. She has published in various mediums including Feminist Media Studies, Gender & Society, The Popular Culture Studies Journal, and ACM CHI, and has presented at national and international conferences.
Additionally, innovative and critical pedagogy in-person, online, and in hybrid formats are forefront to her research and academic approach. She loves finding creative and innovative ways to connect theories and concepts to real life. She strives to make her students excited about learning while building their critical thinking and problem solving skills.
She has held communication, admissions, advising, case management, and teaching positions within higher education and non-profit organizations. As a Gallup-Certified Strengths Coach, she has a strong background in instructing, advising, and counseling students. She has over 9+ years of face-to-face and online collegiate teaching experience, including the following courses: Effective Public Speaking, Business Communication, Interpersonal Communication, Introduction to Mass Communication, Communication and Popular Culture, Fundamentals of Human Communication, and Introduction to Cooperative Education.
She spends her free time hanging out with her partner, friends, and family. She also enjoys watching movies, dancing, traveling, reading, loving on her rescue cats, Moses & CeeCee, and trying new food.
Education
University of Cincinnati
Graduate Certificate - Film & Media Studies.
Master of Arts - Communication.
Bachelor of Arts - Major: Communication. Minors: Psychology and Women's, Gender, and Sexuality Studies.