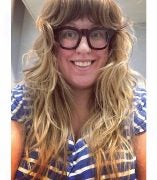 Krysten Stein
Doctoral Student
About
Krysten Stein is a first-generation Ph.D. student in the Department of Communication and a Graduate Concentrator in both Gender and Women's Studies and Black Studies at the University of Illinois at Chicago. She earned a Bachelor of Arts in Communication with a double minor in Psychology and Women's, Gender, and Sexuality Studies, a Master of Arts in Communication, and a graduate certificate in Film and Media Studies from the University of Cincinnati.
Her research interests include Popular Culture, Reality Television, Critical / Cultural Theory, Representation, and Communication Pedagogy. She has published in various mediums and presented at national and international conferences. Her publications can be found in The Journal for Research and Practice in College Teaching, The Popular Culture Studies Journal, and the German magazine, TELEVIZION. Some of her presentations took place at The Midwest Popular Culture Association / American Culture Association Conference, The Future Communications Conference, The Ohio Communication Association Conference, and The Pop Praxis: Social Justice & the Media Conference.
Throughout her professional career, Krysten has held communication, admissions, advising, case management, and teaching positions within higher education and non-profit organizations. As a Gallup-Certified Strengths Coach, she has a strong background in instructing, advising, and counseling students. Krysten has over 7 years of collegiate teaching experience, including the following courses: Effective Public Speaking, Business Communication, Interpersonal Communication, Communication and Popular Culture, Fundamentals of Human Communication, and Introduction to Cooperative Education.
She spends her free time hanging out with her partner, friends, and family. She also enjoys watching movies, dancing, traveling, reading, loving on her rescue cat, Moses, and trying new food.
Education
University of Cincinnati
Graduate Certificate - Film & Media Studies.
Master of Arts - Communication.
Bachelor of Arts - Major: Communication. Minors: Psychology and Women's, Gender, and Sexuality Studies.