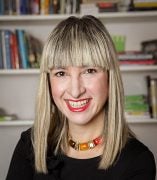 Zizi Papacharissi, PhD
Department Head and Professor
Communication
Contact
Building & Room:
1140A BSB
Address:
1007 W Harrison Street
Office Phone:
Email:
Related Sites:
About
Zizi Papacharissi is Professor and Head of the Communication Department, Professor of Political Science at the University of Illinois-Chicago, and University Scholar at the University of Illinois System. Her work focuses on the social and political consequences of online media. She has published nine books, over 70 journal articles and book chapters, and serves on the editorial board of fifteen journals. Zizi is the founding and current Editor of the open access journal Social Media & Society. She has collaborated with Apple, Facebook, Microsoft, and Oculus and has participated in closed consultations with the Obama 2012 election campaign. She sits on the Committee on the Health and Well-Being of Young Adults, funded by the National Academies of Science, the National Research Council, and the Institute of Medicine in the US, and has been invited to lecture about her work on social media in several Universities and Research Institutes in Europe, Asia, Africa, and the Americas. Her work has been translated in Greek, German, Korean, Chinese, Hungarian, Italian, Turkish, and Persian. Her 10th book, titled After Democracy: Imagining Our Political Future is out now, with Yale University Press.
Zizi was born and raised in Thessaloniki, Greece, and graduated from Anatolia College in 1991. She received a full scholarship to Mount Holyoke College, where she completed a double BA in Economics and Media Studies (1995), and to Kent State University, where she received a Masters degree in Communication Studies (1997). Her studies were fully funded by fellowships and scholarships from both the Onassis Foundation and the University of Texas of Austin, where she received her PhD (2000) in New Media Technologies and Political Communication. She was recognized by her alma mater, UT-Austin, as a high-impact scholar, an honor bestowed to a handful of the School's most productive and impactful doctoral graduates and is the 2018 recipient of the Wayne Danielson Award for the sum and impact of her contributions to the field. Recent award recipients include Elihu Katz, Ben Bagdikian, and Michael Schudson.
Education
PhD, University of Texas at Austin, School of Journalism, Moody College of Communication, 2000
MA, Kent State University, Communication Studies, 1997.
BA, Mount Holyoke College, Media Studies and Economics, 1995.